It is very rare indeed that our Ingredients arrive from any postal code other than Tromsø and its region. Having said that, where the cod swims really is out of our hands, however the hook and its owner are most certainly local. We serve food according to season, and to satisfy our own curiosity. You will be familiar with most of things that land on your plate, but not everything… we love to surprise as well as satisfy. Bardus Bistro draws its inspiration from the bistros of southern Europe where small relaxed restaurants serve home style honest meals made from fresh local produce at a reasonable price. Bardus bistro is a Norwegian reflection of the traditional bistro concept and our menu is based on the ingredients and culinary history of the north.

When the sun blesses us with its presence we'll serve you on Tromsø' most sun drenched and sheltered verandah. See you there!

Make a reservation: 926 74 888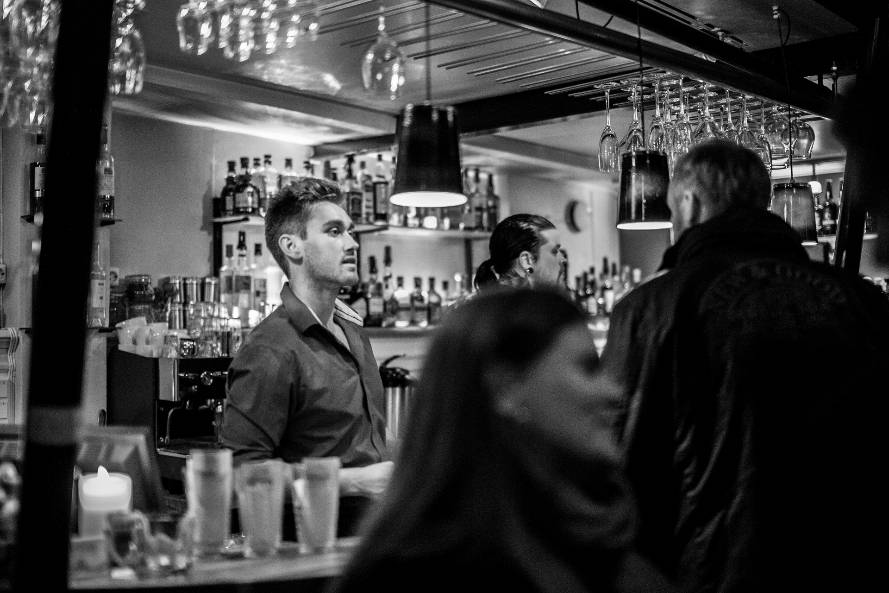 Bardus bar is inspired by the interests of those who built and continue to run it. Travel both near and far, our love of atmosphere and light, music and intimacy and a great respect for those who put their names upon the products that adorn our shelves and for those that serve them. These things have combined to become the place we love. Whether you have a desire for a well-crafted cocktail, a great glass of wine, a beer you have never heard of or to flirt with the finest examples of aged distillation… we will be sure to make you feel at home. And if you feel for a bite of food you can slide into our bistro and enjoy one of Tromsø' finest kitchens.

Bardus (bɑɾˈdʉːs), the original Dutch text meaning; that which comes suddenly (baduff). Feel free to use the term… the old proverbs are often the best. Built as early as 1868 as a bakery, then used as Troms' first cinema, Bardus sits in historic surroundings. The building contains many angles… to venture up on to our mezzanine is an experience in itself.


Mandag: 11.00 - 17.00
Tir-Tors: 11:00 - 22.00
Fre: 11.00 - 23.00
Lør: 12.00 - 23.00
Søndag: 12:00 - 18:00